There are so many really neat types of porches, but I thought I'd start with the obvious: the front porch, since it's what you see first. I think a really pretty porch makes such an inviting home!
My childhood home had a long beautiful brick porch on the front of the house. It perfectly complemented the white columns on the front of it and the dark green shutters on the windows. It was beautiful.
I know you can't really see the porch in this picture, but it gives you an idea. It was brick like is lining the driveway.
When my parents moved, their new house had a much more rustic feel and the porch was smaller and simpler in a way. The walk way to the front door has lots of foliage surrounding it, though, and it's gorgeous in an entirely different way.

[front porch at Christmas]
[Me and Peyton leaving our wedding reception at my parents' house
for our honeymoon
via the front porch ]
Now that Peyton and I have our own house, our "porch" is one thing that really doesn't satisfy me. It's pretty much just a little slab. Although there's not a whole lot we can do, I am planning to one day add a little rail and banisters to make it look a little more like a true porch.

[Our porch area at Christmas. Leaves a bit to be desired, no?]
In the next installment of this series, I'll share a little about the history of porches, but first I wanted to share a few images of front porches that interested me.
The quintessential classic American porch:

A couple with a bit of a modern spin:

As far as furniture goes, I think rocking chairs are very classic. I do like for there to be at least a pair, though!

I love wicker furniture, too. I think it has such a Southern feel to it!

Or you could go a little bit more "fun" and casual and use Adirondack chairs.

One of my absolute favorite things is a porch with a swing!

One neat idea I saw when I was looking through these images was hanging drapes on the porch:
Another really cute porch I found had basically a "picket fence" banister.
Lastly, I found this double porch I really like. I don't always like they way they look, but I like the
idea
of double porches. I think this one is really pretty!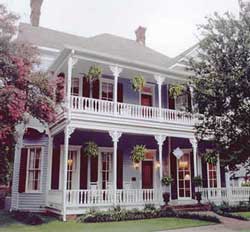 [Images: 1, 2, 3, and 4 were taken with mine or my dad's little point and shoot;

5, 6, 7, 8,

9

,

10

, 11, 12, 13, 14, 15, 16, 17, 18, 19, 20, 21]